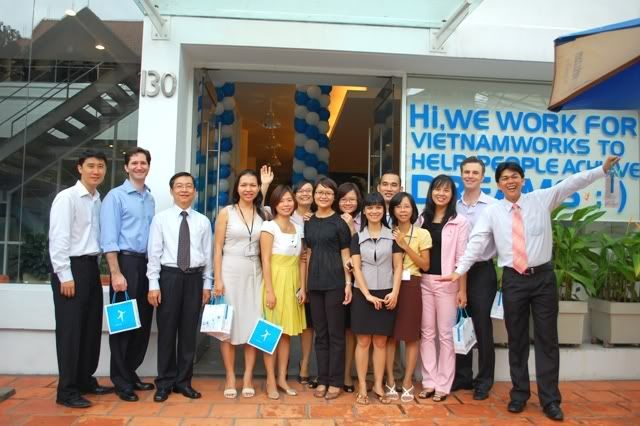 On Monday we kicked off the "Dreams" campaign internally at VietnamWorks. The objective of the campaign is to infuse a sense of mission among team members in the company. We're not "just a business." Our service really does help people achieve their dreams -- provide for their families, make their parents proud, take on new challenges, achieve greatness -- and I want people to understand that no matter what their work is, it brings dreams closer to the people we serve. It's a great message that inspires me every day.
The Marketing team has been super creative in designing and executing the campaign. I love their ideas! They include a "Jumping Guy" contest [pics below, the Jumping Guy is part of our logo] and an audio contest to see who can make the most celebratory "Wowie I got a new job!!!!" sound.
We began on Monday morning by having senior management line up at the front door and cheer wildly for team members as they entered the building. Then we thanked each one: "Thank you for helping people to achieve their dreams!"
Several people looked around them, trying to find who we were clapping for until they realized "Oh, it's me!!" and big smiles broke out on their faces. Loc, from the Sales team, even began racing out the front door and offering his arm to women. It was such a good idea I followed his lead. Hilarious, and good fun!
Click here to see the Yahoo 360 blog that the Marketing team created. It's mostly in Vietnamese but you'll get the idea.
The Marketing team did an outstanding job decorating the office.
Now for some Jumping Guy contest pics (there are many more on the VietnamWorks 360 blog). We're having a contest and people can vote on the best ones. Here's a great one -- I think Hong Phuong[?] -- it looks like she's taking off!



Thanh had another impressive jump.



I love Binh's beatific smile.

And yes, charvey.

A nice group shot of the Marketing Team. More beaming faces. Everyone had a blast!